rethining Israeli Journalism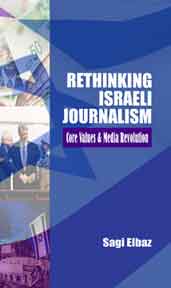 What is the role of the media in society? How has the Israeli media performed its role in a society in turmoil? In this provocative book, Sagi Elbaz posits that the media has remained faithful to Israel's core values, and furthermore, that its coverage over the years has supported those unchanging values.
One could expect to see a change in the media's coverage patterns of key socio-political issues, in light of contemporary events in Israel (such as the change in the State's elites and the media revolution). The expectation for change is based on the long-held assumption that mass media in a democratic society has a responsibility to express changes in the political system. Moreover, one would expect the coverage in the media to reflect those changes. However, Rethinking Israeli Journalism reveals wide gaps between the objective realities of issues that touch on core values and how these realities are presented in media discourse. According to Elbaz, the Israeli media's coverage of political, military and economic issues has evolved over time, while its attitude towards national core issues remains largely unchanged.
 
Elbaz develops a model asserting the existence of three power groups – political, military and economic elites that use the media to garner public support to maintain the status quo and to justify their continued dominance. Among other things, these Israeli elites are responsible for shaping a core of ideological consensus, whose main tenets are: a) Jewish nationalism; b) a security culture; c) economic liberalism. Attitudes and policy regarding each of these core issues is produced, replicated and disseminated to the public at-large via the communications media – which is the apparatus of ideological consensus subject to the control of the elites.
 
"The author's attempt to distinguish between core values and temporary values of the coverage should be appreciated. It is important to discuss Elbaz's instructive study questions of his book." – Prof. Arie Naor, Department Chair of Politics and Communication, Hadassah Academic College
 
"Sagi Elbaz's book is based on multidisciplinary research that provides many innovative, convincing and interesting insights." – Prof. Eli Avraham, the Department of Communication, University of Haifa .
Rethinking Israeli Journalism is based on the author's Ph.D. dissertation that was awarded for the best dissertation in Political Science in 2013 by the Israeli Political Science Association.